Cinco de Mayo Menu
---
Network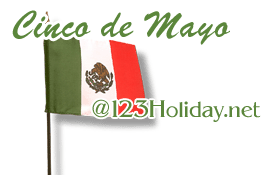 Cinco de Mayo Recipes
Chunky Salsa Ingredients
1 jalapeno (I prefer Serrano chiles) chile, seeds removed, chopped fine (wear gloves)
6 medium tomatoes chopped into 1/4-inch chunks
1 medium red onion chopped
3 green onions sliced thin with green tops included
1/8 cup loosely-packed fresh cilantro, finely chopped
1/4 teaspoon cumin powder
1/2 teaspoon chili powder
1/2 teaspoon oregano, crushed between palms
1/4 teaspoon garlic powder
1 (8-ounce) can tomato sauce
1 4-ounce can chopped mild green chiles
2 tablespoons red wine vinegar
salt and pepper to taste
Instructions
Mix all ingredients together. Let sit overnight to let flavors blend. Serve with crisp tortilla chips as dip or serve as a condiment with other dishes. Store any leftover salsa in a covered container in the refrigerator for up to two weeks.
---
Send Flowers & Gift Baskets Online!
---
Chunky Guacamole
1/2 small onion, very finely chopped
Fresh hot green chiles to taste (roughly 2 chiles serranos or 1 chile jalapeno), stemmed, seeded and very finely chopped
1 ripe, medium-large tomato, cored and very finely chopped (optional)
1 clove garlic, peeled and very finely chopped (optional)
10 sprigs fresh coriander (cilantro), chopped (optional)
3 ripe, medium avocados
1/2 teaspoon salt (about)
1/2 lime, juiced (optional)
Additional chopped onion and fresh coriander, radish slices or roses, and/or a little crumbled Mexican or other fresh cheese like feta or farmer's cheese, for garnish
Instructions
In a medium-size bowl, mix the finely chopped onion and chiles with the optional tomato, garlic and coriander. Close to the time you are going to serve, halve the avocados lengthwise by cutting from the stem to flower ends, around the pits. Twist the avocado halves in opposite directions to loosen the meat from the pits, then scoop out the pits and reserve. Scrape the avocado pulp from the skins and add it to the bowl. Using your hand or a spoon, roughly mash the avocado while mixing in the other ingredients, making a coarse, thick mass. Flavor with salt, then enough lime juice to add a little zing, if you wish. Return the pits to the guacamole and cover with a sheet of plastic wrap pressed directly onto the surface of the mixture. Set aside for a few minutes to let the flavors blend. Garnishing: The guacamole is very attractive in a pottery bowl or Mexican mortar, sprinkled with chopped onion, coriander, radish slices and crumbled fresh cheese; radish roses really dress it up.
---
Sopa de Albóndigas (Meatball Soup)
1 medium onion, chopped (1/2 cup)
1 clove garlic, minced
2 tablespoons cooking oil
4 cups water
2 10-1/2-ounce cans condensed beef broth
1 6-ounce can tomato paste
2 medium potatoes, peeled and cubed (2 cups)
2 medium carrots, sliced (1 cup)
1 beaten egg
1/4 cup snipped cilantro or parsley
1 teaspoon salt
1/2 teaspoon dried oregano, crushed
1/8 teaspoon pepper
1 pound ground beef
1/4 cup long grain rice
Instructions
In large saucepan cook onion and garlic in hot oil till onion is tender but not brown. Stir in water, broth, and tomato paste. Bring to boiling; add potatoes and carrots. Simmer for 5 minutes. Meanwhile combine egg, cilantro or parsley, salt, oregano, and pepper. Add ground beef and uncooked rice; mix well. Form mixture into 1-inch meatballs. Add, a few at a time, to the simmering soup. Return soup to boiling; reduce heat and simmer about 30 minutes or till meatballs and vegetables are done.

Search the web: