Cinco de Mayo Menu
---
Network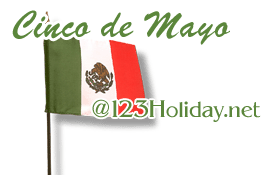 Cinco de Mayo Recipes
Refried Beans
1/2 cup vegetable oil or lard
2 cups cooked Pinto Beans (recipe follows)
2 tablespoons chili powder
1 tablespoon ground cumin
1 teaspoon salt
1/8 teaspoon pepper
Instructions
Heat lard in 10-inch skillet over medium heat until hot. Add Pinto Beans; cook, stirring occasionally, 5 minutes. Mash beans; stir in chile powder, cumin, salt and pepper. Add more oil to skillet if necessary; cook and stir until a smooth paste forms, about 5 minutes. Garnish with shredded cheese if desired.
---
Send Flowers & Gift Baskets Online!
---
Pinto Beans
4 cups water
1 pound dried pinto or black beans (about 2 cups)
1 medium onion, chopped (about 1/2 cup)
1/4 cup vegetable oil
2 cloves garlic
1 slice bacon
1 teaspoon salt
1 teaspoon cumin seed
Instructions
Mix water, beans and onion in 4-quart Dutch oven. Cover and heat to boiling; boil 2 minutes. Remove from heat; let stand 1 hour. Add just enough water to beans to cover. Stir in remaining ingredients. Heat to boiling; reduce heat. Cover and boil gently, stirring occasionally, until beans are very tender, about 2 hours. (Add water during cooking if necessary.) Drain; reserve broth for recipes calling for bean broth. Cover and refrigerate beans and broth separately; use within 10 days.
---
Beef Fajitas (Grilled Marinated Skirt Steak)

Marinade Marinade
4 garlic cloves, minced and mashed to a paste with 1 teaspoon salt
1/4 cup fresh lime juice
1-1/2 teaspoons ground cumin
2 tablespoons olive oil
Fajitas
2 pounds skirt steak, trimmed and cut into large pieces to fit on a grill or broiler pan or in a ridged grill pan
2 tablespoons vegetable oil
3 assorted colored bell peppers, sliced thin
1 large red onion, sliced thin
2 garlic cloves, minced
12 (7- to 8-inch) flour tortillas, warmed guacamole and tomato salsa as accompaniments
Instructions
Make the marinade: In a large bowl whisk together the garlic paste, the lime juice, the cumin, and the oil. Add the steak to the marinade, turning it to coat it well, and let it marinate, covered and chilled, for at least 1 hour or overnight.

Grill the steak, drained, on a well-oiled rack set about 5 inches over glowing coals or in a hot well-seasoned ridged grill pan over moderately high heat for 3 to 4 minutes on each side, or until it is just springy to the touch, for medium-rare meat. (Alternatively, the steak may be broiled on the rack of a broiler pan under a preheated broiler about 4 inches from the heat for 3 to 4 minutes on each side for medium-rare meat.) Transfer the steak to a cutting board and let it stand for 10 minutes. While the steak is standing, in a large skillet heat the oil over moderately high heat until it is hot but not smoking, add the bell peppers, the onion, and the garlic, and sauté the mixture, stirring, for 5 minutes, or until the bell peppers are softened. Slice the steak thin across the grain on the diagonal and arrange the slices on a platter with the bell pepper mixture . Drizzle any steak juices over the steak and the pepper mixture and serve the steak and the pepper mixture with the tortillas, the guacamole, and the salsa.

Assemble a fajita: Spread some of the guacamole on a tortilla, top it with a few slices of the steak, some of the pepper mixture, and some of the salsa. Roll up the tortilla to enclose the filling.

Search the web: